[Evento] Azure | Microsoft Secure Briefing con Algeiba – 04/05/2017
El 04 de Mayo de 2017 llevamos a cabo, junto a Alegiba IT y Microsoft Argentina el "Microsoft Secure Briefing" para Clientes y Tecnólogos.
Este evento tuvo un formato "Workshop" y Pablo Ariel Di Loreto presentó los desafíos de seguridad en las empresas modernas y demostró como Microsoft Azure y la suite de Office 365 puede ayudarnos a enfrentarlos. Microsoft staff: Microsoft Argentina (Soledad Merlo). +50 registados y +30 asistentes.
En esta publicación te vamos a contar un resumen del mismo, algunas fotos, y twits destacados luego de una jornada fantástica en las oficinas de Microsoft Argentina.
[toc]
Resumen del Evento
Durante el evento se presentaron las 4 fases de los riesgos de seguridad:
Fase 1: La entrada. Soluciones Microsoft: Office 365 Anti Spam, Anti Malware, Azure MFA, Office 365 Message Encryption.
Fase 2: The inside Man. Soluciones Microsoft: Device Guard, Windows Defender ATP, Microsoft Passport.
Fase 3: Spread Out. Soluciones Microsoft: Credential Guard, ATA, Azure RM.
Fase 4: The long Con. Soluciones Microsoft: Azure Security Center, OMS, EMS, Cloud App Security.
Adicionalmente se mostraron casos prácticos de cada uno de ellos.
Publicaciones Sociales destacadas del Evento
Te compartimos algunas publicaciones sociales del evento:
Ya estamos en @MSFTArgentina charlando sobre todo lo importante en #Seguridad de la mano de Azure, Office 365 y Windows 10 pic.twitter.com/uwIlNEv6ni

— Algeiba IT (@algeibaIT) May 4, 2017
Link del evento en Facebook: https://www.facebook.com/events/1351023898327228/
Material de la Presentación
[slideshare id=92515431&doc=algeibapdiloretoseguridadazure-04052017-180331192841]
Imagenes del Evento
Te compartimos imagenes del evento: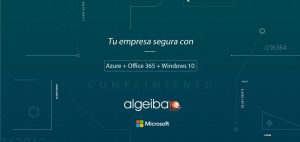 Acerca del Autor