[TUTORIAL] Hyper-V | Configuración de Live Migration sin Shared Storage en Windows Server 2012
Hyper-V 3 en Windows Server 2012 incorpora la posibilidad de realizar "Live Migrations" sin un almacenamiento compartido o la implementación de System Center Virtual Machine Manager. Esto no solo significa sin una infraestructura SAN / iSCSI, sino también significa sin un recurso compartido donde se aloje el equipo virtual.
A grandes rasgos, esto significa que teniendo dos host Hyper-V con espacio interno, que ejecuten Windows Server 2012, se podría utilizar la funcionalidad Live Migration directamente desde la consola Hyper-V de Windows Server.
En este artículo vamos a comprobar cómo realizar, sin un shared sotarge, migraciones en vivo de máquinas virtuales.
[toc]
Introducción
Objetivo
Esta publicación tiene como objetivo mostrar cómo las organizaciones pueden aprovechar las ventajas de Windows Server 2012 para utilizar las características de Live Migration de Hyper-V sin la necesidad de storage costoso.
Alcance
Esta publicación puede aplicarse a:
Windows Server 2012 Standard
Windows Server 2012 Datacenter.
Hyper-V en Windows Server 2012.
Escenario de Trabajo
En este escenario práctico, contamos con dos host de Hyper-V que corren bajo Windows Server 2012, integrados a un dominio de Active Directory:
PHV01: Host 1 con Hyper-V 3 que tiene los equipos que queremos mover activos.
PHV02: Host 2 con Hyper-V 3.
Los dos Hosts Hyper-V tienen el mismo procesador: AMD. Este es un detalle importante, dado que no puede hacerse utilización de Live Migration sin este requisito.
Plan de Trabajo
Nuestro Plan de Trabajo para este tutorial será el siguiente:
Habilitación de Live Migration en los hosts
Configuración de delegación Kerberos
Configuración del asistente de "Move"
Chequeo del Live Migration
Desarrollo del Tutorial Hyper-V Live Migration sin Shared Storage
Habilitación de Live Migration en los hosts
Para habilitar Live Migration en los host debemos ir a las opciones de configuración de Hyper-V: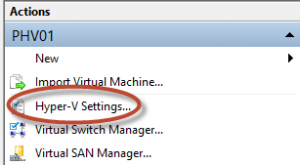 En la solapa "Live Migrations" debemos configurar las opciones apropiadamente: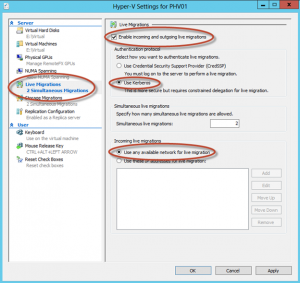 Configuración de Delegación Kerberos
Live Migration en Windows Server 2012 soporta 2 protocolos de autenticación: "CredSSP" y "Kerberos". Para configurar el uso de "Kerberos" tenemos que configurar la delegación en los servidores.
Para hacer esto, tenemos que hacer uso de alguno de nuestos DCs e ir a la consola "Active Directory Users and Computers. En nuestro caso, vamos a ir a la OU "Servers" y luego a la OU "Hyper-V":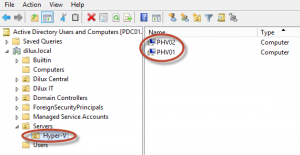 Hacemos botón derecho sobre "PHV02", properties: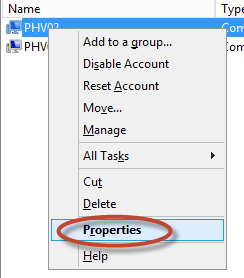 Luego, en la solapa "Delegation", seleccionamos las siguientes opciones: "Trust this computer for delegation to specified services only" y luego "User Kerberos only":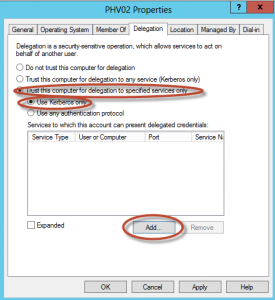 Posteriormente seleccionamos "Add" para elegir el equipo. En nuestro caso, como estamos en las propiedades del equipo PHV02, debemos seleccionar el PHV01: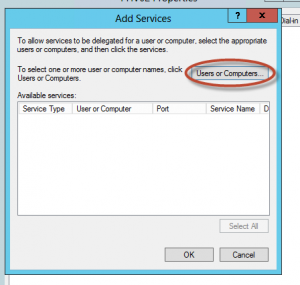 Aquí buscamos el equipo PHV01: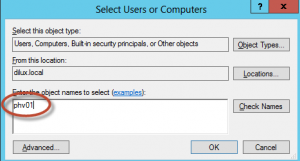 Y elegimos los servicios : "cifs" y "Microsoft Virtual System Migration Service":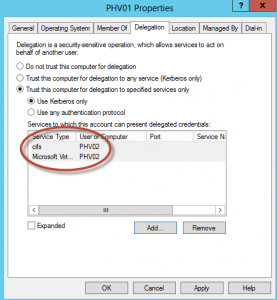 Repetimos los mismos pasos para el PHV01, pero agregando al PHV02 en la delegación: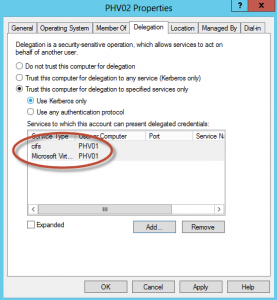 Realización del "Move"
Haciendo botón derecho sobre la máquina virtual que queremos mover, elegimos la opción "Move":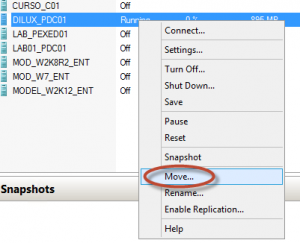 Allí aparecerá el asistente para "Move":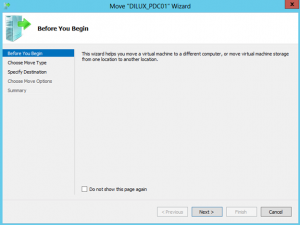 Vamos a elegir la opción "Move the Virtual Machine":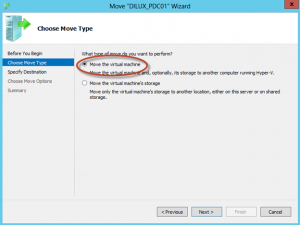 En la próxima pantalla, seleccionamos el host destino, que en nuestro caso es el PHV02: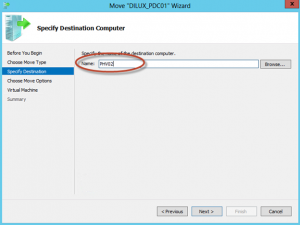 En la próxima pantalla vamos a seleccionar mover todo el equipo virtual a una locación única. Si seleccionamos otras opciones, podemos desglosar cada ítem del equipo virtual y elegir su destino (o que ítems mover). Para este tutorial vamos a mover la máquina entera: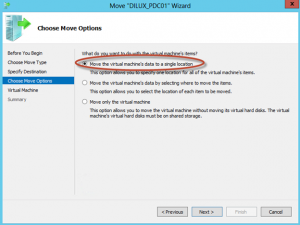 Aquí demos seleccionar el destino (locación física) de nuestra máquina. Es decir, al carpeta dentro del equipo PHV02. Seleccionamos "Browse" para elegir el destino y aceptamos la ubicación: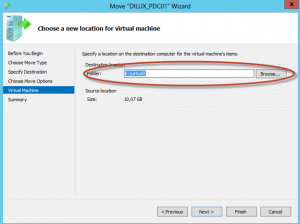 El asistente nos mostrará un resumen de las opciones seleccionadas:
Chequeo del Live Migration
Vamos a comprobar el Live Migration. En resumidas cuentas, lo que debería ocurrir es que no perdemos conectividad a nuestro equipo durante el pasaje.
Para esto, vamos a hacer dos cosas:
Dejar un ping hacia el equipo virtual (IP 192.168.1.31)
Ingresar al equipo DILUX_PDC01 mientras realizamos el move.
Iniciamos el proceso: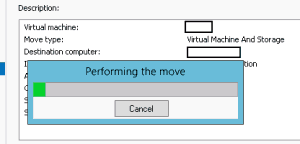 Corroboramos que durante el mismo el PING –T sugue respondiendo: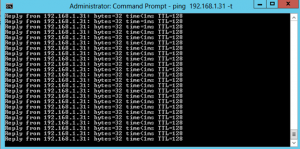 Conclusiones
Gracias a Live Migration de Hyper-V 3 en Windows Server 2012, podemos realizar migraciones de un host al otro sin la implementación de SAN / Shared Storage o una herramienta de administración como System Center Virtual Machine Manager.
Referencias y Links
Comentarios y Corrección de Errores
Hemos realizado nuestro mejor esfuerzo para no cometer errores, pero al fin y al cabo somos seres humanos. Si deseás reportar algún error o darnos feedback de qué te pareció esta publicación, por favor no dejes de comunicarte con nosotros a través de correo electrónico a la siguiente dirección: info@tectimes.net.
Acerca del Autor