[Event] NET Conf AR v2017 | First Day Review with a lot of "Azure" and .NET
Los días 29 y 30 de Junio, y el 01 de Julio se realizó la primera edición de la .NET Conf AR correspondiente al año 2017. Esta conferencia es la extensión de la originalmente conocida .NET Conf UY que se viene ejecutando hace 3 años en Montevideo, Uruguay.
La edición argentina cuenta con 7 organizadores, 4 de los cuales son del país local: Guillermo Bellmann, Nicolás Bello Carmetti, Mariano Vazquez y Pablo Di Loreto.
En esta publicación te vamos a contar un resumen del primer día del evento, dedicado a Workshops y hosteado en las oficinas de Microsoft. A todos los que participaron, ¡muchas gracias!
[toc]
Resumen del Primer Día
El primer día fue dedicado a Workshops y se desarrolló en las oficinas de Microsoft Argentina. Los workshops fueron los siguientes:
Sebastián Pérez
Creando una aplicación con Xamarin Forms y Azure Mobile App Service
Mariano Sanchez
ASP.NET Core con Visual Studio Code
Sebastian Gambolati
Usos y costumbres del HoloLens
Rachel Appel
Azure Functions in Depth
Maximiliano Accotto
Construyedo tableros con PowerBI
Matias Iacono
ECMAScript6, Azure, Arduino & Games
Germán Küber
Introduccion a Universal Windows Platform Development
Jorge Cano
TypeScript a fondo
Fotos del Primer Día
Visitá nuestro Facebook para ver todas las fotos del primer día: https://www.facebook.com/NETConfAR/
Organizadores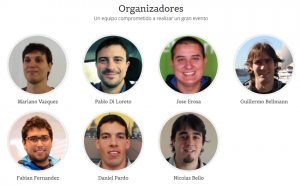 Acerca del Autor