[Event] NET Conf AR v2017 | Second Day Review with more "Azure" and .NET
Los días 29 y 30 de Junio, y el 01 de Julio se realizó la primera edición de la .NET Conf AR correspondiente al año 2017. Esta conferencia es la extensión de la originalmente conocida .NET Conf UY que se viene ejecutando hace 3 años en Montevideo, Uruguay.
La edición argentina cuenta con 7 organizadores, 4 de los cuales son del país local: Guillermo Bellmann, Nicolás Bello Carmetti, Mariano Vazquez y Pablo Di Loreto.
En esta publicación te vamos a contar un resumen del segundo día del evento, dedicado a Workshops y desarrollado en la Facultad de Ciencias Económicas de la Universidad de Buenos Aires. A todos los que participaron, ¡muchas gracias!
[toc]
Resumen del Segundo Día
Este día fue el primero de la conferencia (día anterior de Workshops) y tuvimos el honor de tener a los siguientes speakers:
Ezequiel Glinsky
Keynote: Nuevas perspectivas de Microsoft: ¿dónde estamos?
Marcelo Felman
Los bots son las nuevas apps
Leonardo Micheloni
Blockchain, criptomonedas, smart contracts y Azure
Rodolfo Finochietti
Despliegue y Monitoreo de apliaciones ASP.NET Core en ambinetes Linux productivos
Eleonora Ortega | Carolina Bañales | Maren Lau
Como reducir la brecha de diferencia de género en las carreras de tecnología
Maximiliano Accotto | Javier Villegas
SQL Server 2017: Mejoras impulsadas por la comunidad
Nicolas Milcoff
Going pixel perfect with Xamarin & MvvmCross
Rachel Appel
Build OO JavaScript Apps with TypeScript and VS Code
Fabian Imaz
Conecta Microsoft Flow, PowerApps y PowerBI a los procesos de negocio y datos corporativos
Diego Bonilla
Cognitive Services & Xamarin
Fotos del Segundo Día
Visitá nuestro Facebook para ver todas las fotos del primer día: https://www.facebook.com/NETConfAR/
Organizadores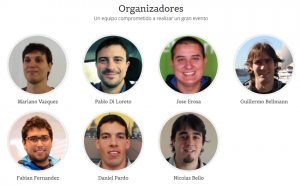 Acerca del Autor