[Event] NET Conf AR v2017 | Last Day Review with more "Azure" and .NET
Los días 29 y 30 de Junio, y el 01 de Julio se realizó la primera edición de la .NET Conf AR correspondiente al año 2017. Esta conferencia es la extensión de la originalmente conocida .NET Conf UY que se viene ejecutando hace 3 años en Montevideo, Uruguay.
La edición argentina cuenta con 7 organizadores, 4 de los cuales son del país local: Guillermo Bellmann, Nicolás Bello Carmetti, Mariano Vazquez y Pablo Di Loreto.
En esta publicación te vamos a contar un resumen del tercer día del evento, dedicado a Workshops y desarrollado en la Facultad de Ciencias Económicas de la Universidad de Buenos Aires. A todos los que participaron, ¡muchas gracias!
[toc]
Resumen del Tercer Día
Este día fue el segundo de la conferencia (día anterior de Workshops) y tuvimos el honor de tener a los siguientes speakers:
Pamela Scheurer
Keynote: Emprender sin fronteras
Diego Gonzalez | Lucas Pallarés
Programando con Hololens
Fernando Sonego | Nicolas Granata
Mejorando el rendimiento de Apps .Net con Caching: técnicas e implementación
Jorge Cano
Angular, el mundo en typescript
Florencia Nodar | Nicolás Granata
Aplicaciones en tiempo real usando ASP.NET Core, SignalR & Angular
Johnny Halife
Scaling an Engineering Team without sacrificing Quality
Sebastián Pérez
Xamarin Live Player: Dimes y diretes
Rachel Appel
Build Awesome Azure Functions Apps!
Matías Quaranta
Azure Cosmos DB
Mariano Sanchez
Web APIs con .NET Core, Docker y Azure
Fotos del Segundo Día
Visitá nuestro Facebook para ver todas las fotos del primer día: https://www.facebook.com/NETConfAR/
Organizadores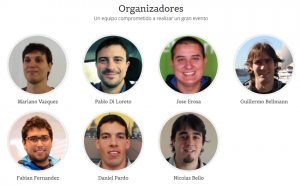 Acerca del Autor