[Evento] NET Conf CL v2018 | Primer día: resumen y todo lo relacionado a Azure
Los días 28, 29 y 30 de Noviembre se realizó la primera edición de la .NET Conf CL. Esta conferencia es la extensión de la originalmente conocida .NET Conf UY y este año está presente también en Argentina (segunda edición) y Colombia (primera edición).
La edición chilena cuenta con 4 organizadores, +5 colaboradores y 200 registrados. Pablo Ariel Di Loreto es un organizador de la organización Global que nuclea a todas las conferencias y activo organizador de esta edición.
En esta publicación te vamos a contar un resumen del primer día del evento, realizado en Duoc UC | Sede Padre Alonso de Ovalle, Santiago, Región Metropolitana, Chile. A todos los que participaron, ¡muchas gracias!
[toc]
Resumen de la Jornada
Los speaders y temas que participaron de este día fueron los siguientes:
People-Ideas-Data
Go & Azure
Los Bots llegaron para quedarse y conquistar el mundo
Creando aplicaciones en tiempo real con ASP.NET Core y SignalR
Otras opciones de ejecutar R en ambientes Microsoft
Mobile Wars
Adding Augmented Reality to your Xamarin App
Cómputo en la nube, diferentes sabores para todas nuestras necesidades
Handling Real Time Analytics Scenario – IoT + Power BI
Microsoft – Data Platform and Artificial Intelligence
Computer Vision with Deep Learning and Microsoft MLS (Machine Learning Services)
Desarrollo de Aplicaciones Nativas de nube usando Steeltoe
Infrastructure as Code on Azure
Messaging in Azure
Open Source for the win!
Progressive Web Apps
Análisis de reclamos. Modelos supervisados y no supervisados
CQRS al rescate
Arquitectura Github library Angular 7 y deployment en Azure
Fotos
Visitá nuestro Facebook para ver todas las fotos del primer día: https://www.facebook.com/NETConfCL/
Organizadores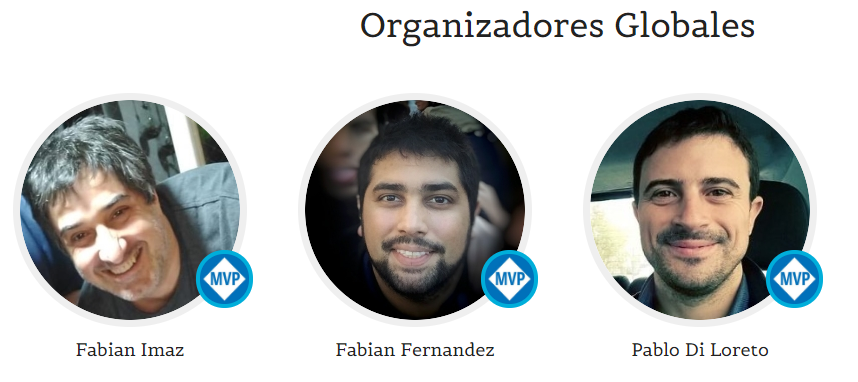 MVP Program Check
If you are from MVP Program (Microsoft) and want to check this contribution, please go to http://cl.netconf.global/#organizers and check in "Global Organizators" my info (Pablo Di Loreto) and my photo. With this information, you can check my videos and others conference's contributions.
Acerca del Autor