[Noticia] Windows | Windows 10 Insider Preview Build 14267 disponible
Microsoft anunció la salida de una nueva compilación para Windows 10 Insider Preview con el Build 14267 para los que estén en el anillo de actualización rápida (Fast Ring).
En esta publicación te vamos a contar todo lo necesario para que puedas instalarlo con tranquilidad y preparado de los nuevos issues. ¡A probar Insiders!
[toc]
Detalles de la Build
Este paquete acumulativo para la Build 14267 de Windows 10 Insider Preview soluciona problemáticas varias y brinda nuevas funcionalidades en los sistemas operativos Windows 10 para Desktop. Esta actualización está disponible para el anillo rápido (Fast Ring).
¿Qué hay de nuevo?
La Build 14267 ofrece las siguientes mejoras:
Cortana permite buscar música: Ahora en la esquina superior derecha aparecerá un ícono que facilita la búsqueda de música con Cortana.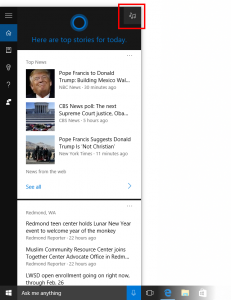 Mejoras en Favoritos para Microsoft Edge: Si está habilitada la barra de favoritos en EDGE, haciendo botón derecho ahora se podrá elegir que solo se muestre el ícono del mismo y no toda la descripción. Asimismo, se pueden crear carpetas.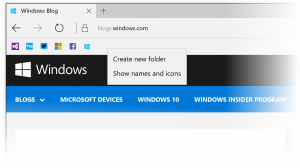 Limpiar datos de navegación al salir de Microsoft Edge: Yendo a Settings, haciendo clic en el botón "Choose what to clear" bajo"Clear browser data" y habilitando "Always clear this after I close the browser" se podrá disfrutar de esta funcionalidad.
Mejoras en interfaz para descargas en Microsoft Edge: Ahora se puede configurar para que Edge pregunte dónde guardar la descarga antes de iniciarla.
Mejoras en Mensajería + Skype: Se puede adjuntar fotos a las conversaciones de skype y adicionalmente se puede invocar a la apliación de fotos.
¿Qué se ha arreglado?
La Build 14267 soluciona los siguientes problemas:
La opción "Reset This PC" bajo Settings > Update & Security > Recovery ahora funciona como se espera.
Ya no se debería ver el error en WSClient.dll error dialog luego del inicio de sesión.
Corrección de errores en cámara frontar si se tiene habilitado Windows Hello.
Conclusión
Sin más, a no demorarse y probar este paquete de actualizaciones para la Build 14267. ¡Saludos!
Referencias y Links
Acerca del Autor