[Noticia] Windows | Windows 10 Mobile Insider Preview Build 14267 disponible
Microsoft anunció la salida de una nueva compilación para Windows 10 Mobile Insider Preview con el Build 14267 para los que estén en el anillo de actualización rápida (Fast Ring).
En esta publicación te vamos a contar todo lo necesario para que puedas instalarlo con tranquilidad y preparado de los nuevos issues. ¡A probar Insiders!
[toc]
Detalles de la Build
Este paquete acumulativo para la Build 14267 de Windows 10 Mobile Insider Preview soluciona problemáticas varias y brinda nuevas funcionalidades en los sistemas operativos Windows 10 para Mobile (dispositivos móviles). Esta actualización está disponible para el anillo rápido (Fast Ring).
Microsoft aclaró que inicialmente las nuevas compilaciones correspondientes al Branch de Desarrollo (como ésta) estarán disponibles solo para dispositivos móviles diseñados (que se vendan con) para Windows 10 Mobile. Actualmente estos dispositivos son: Lumia 950, 950 XL, 650, y Xiaomi Mi4. Se planea, aún no se sabe cuando, extender Windows 10 Mobile (Development Branch) a otros dispositivos.
¿Qué hay de nuevo?
La Build 14267 ofrece las siguientes mejoras:
Cortana permite buscar música: Ahora en la esquina superior derecha aparecerá un ícono que facilita la búsqueda de música con Cortana.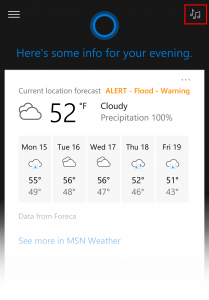 Word Flow ahora funciona para Microsoft Edge en tu teléfono: Para los fans de Word Flow, se ha re-habilitado la posibilidad de usar escritura de formas en la barra de direcciones!
Abrir InPrivate tabs es más facil: Ahora se movió la posibilidad de abrir una ventana en incógnito en el navegador al lado del botón de crear una ventana.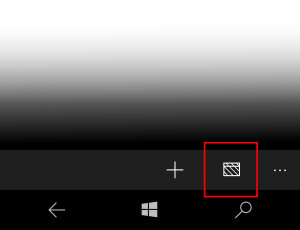 Mejoras en interfaz para descargas en Microsoft Edge: Ahora se puede configurar para que Edge pregunte dónde guardar la descarga antes de iniciarla.
Mejoras en Mensajería + Skype: Se puede adjuntar fotos a las conversaciones de skype y adicionalmente se puede invocar a la apliación de fotos.
¿Qué se ha arreglado?
La Build 14267 soluciona los siguientes problemas:
We fixed an issue where shape writing would ignore every second word when typing into a text box on a website in Microsoft Edge.
After installing the Polish keyboard, typing a word that should be accented now offers the recommended accented word. For example – if you type the word "milosc" it should properly autocorrect to "miłość".
We have resolved an issue where you could not hide the navigation bar in Windows Phone 8.1 apps like WhatsApp, Twitter, Weibo, Flixster and others.
We fixed an issue where videos recorded onto SD memory cards would result in a large number of dropped frames.
There should be improved app launch reliability and certain crashes that were causing the phone to reboot are also fixed.
We've polished the Live tile animations and improved the logic for refreshing Live tiles.
We've made reliability improvements for keyboards with large dictionaries such as the Hinglish keyboard.
Conclusión
Sin más, a no demorarse y probar este paquete de actualizaciones para la Build 14267. ¡Saludos!
Referencias y Links
Acerca del Autor