[Evento] NET Conf CO v2018 | Tercer día: resumen y todo lo relacionado a Azure
Los días 8, 9 y 10 de Noviembre se realizó la segunda edición de la .NET Conf CO correspondiente al año 2018. Esta conferencia es la extensión de la originalmente conocida .NET Conf UY y este año está presente también en Argentina (segunda edición) y Chile (primera edición).
La edición argentina cuenta con 6 organizadores, +10 colaboradores y 400 registrados. Pablo Ariel Di Loreto es un organizador de la organización Global que nuclea a todas las conferencias y activo organizador de esta edición.
En esta publicación te vamos a contar un resumen del último día del evento, realizado en Ruta N, Medellín. A todos los que participaron, ¡muchas gracias!
[toc]
Resumen de la Jornada
Los speaders y temas que participaron de este día fueron los siguientes:
Working with Azure Blockchain and .NET Core
Asegurando calidad de código con VSTS y SonarQube
GraphQL: Let's put REST to rest
Angular + WEB API (.Net Core)
.NET Internals, mejorando el rendimiento de las aplicaciones
Aceleración de Modelos ML con FPGA en Azure
Desarrollo de funciones AWS Lambda con .NET Core
Integrá fácilmente login social con Azure B2C y .NET
Improve Legacy Code Using DDD
Triggers and Behaviors in Xamarin Forms
Authentication as a Service in ASP.NET Core 2.1 with IdentityServer4, OpenID Connect, and OAuth 2.0
Building a BOT for Teams available with Dynamics 365 usersAzure Maps + IoT + Xamarin
Azure Maps + IoT + Xamarin
Inteligencia Artificial en la Era Digital
Cognitive service con Xamarin + blockchain en Azure
Mejorando nuestras aplicaciones con Application Insights
Azure Devops con GitHub
Getting the most out of Visual Studio Code
TDD y .NET: ¿Cómo desarrollar a prueba de todo?
Fotos
Visitá nuestro Facebook para ver todas las fotos del tercer día: https://www.facebook.com/NETConfCO/
Organizadores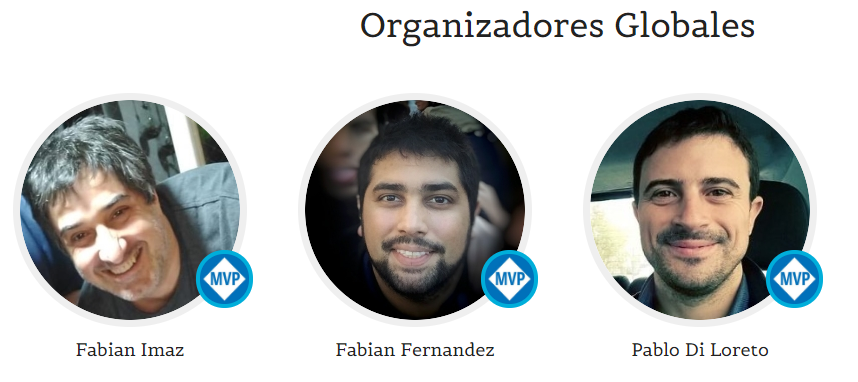 MVP Program Check
If you are from MVP Program (Microsoft) and want to check this contribution, please go to http://co.netconf.global/#organizers and check in "Global Organizators" my info (Pablo Di Loreto) and my photo. With this information, you can check my videos and others conference's contributions.
Acerca del Autor